You don't have to completely lose dessert when you are trying to lose weight. A delicious treat now and then helps keep you on track by preventing the feeling of being deprived. Don't waste your dessert with empty calories though. This dessert is packed with fiberous fruit and healthy oats! Yum!
Ingredients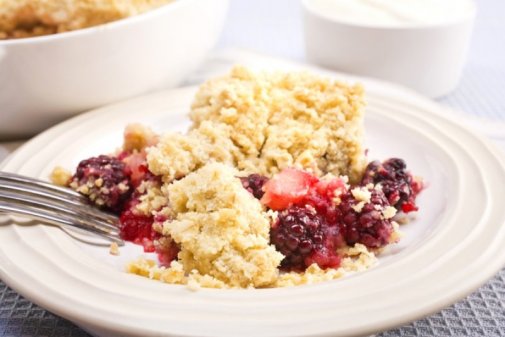 1 cup brown sugar
1 cup flour
1/2 cup rolled oats
1 teaspoon ground cinnamon
1/2 teaspoon ground nutmeg
8 tablespoons butter
5 cups cored, peeled, chopped apples
2 cups blueberries
1/2 cup granulated sugar
1 tsp lemon zest
Juice of 1/2 lemon
Preparation
Heat oven to 350°. Lightly grease a 2 quart baking dish. Melt the butter separately. Mix brown sugar, flour, and oats with cinnamon, nutmeg and cloves in a bowl. Mix sugar, flour, oats, cinnamon and nutmeg together. Pour melted butter over mixture and stir with fork, forming large chunks. In a separate bowl, toss apples and blueberries together with granulated sugar, lemon zest, and lemon juice.